Board of commissioners
The regularly scheduled Board of Commissioners meeting is held the 3rd Thursday of each month at 1:00 pm in the Board Conference Room. If you have questions about meeting location or time, please contact 509.725.2979 ext. 1119.
In memory of Sue Els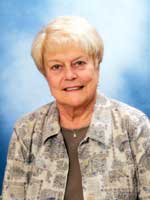 Sue served on the Lincoln Hospital Board of Commissioners for 35 years, since 1986. She was a great asset to the District and will be sorely missed. Sue advocated for our hospital, clinics, doctors, staff, and patients and expressed pride in the care provided and accomplishments made by the District. Her leadership, thoughts, and ideas helped shape us to what we are today and she truly embodied our "Neighbors for Life".

District 1, Position 1 Donna Reinbold

District 1, Position 2 H. Eugene "Gene" Smith

District 2, Position 1 Taunya Van Pevenage, appointed

District 2, Position 2 Laura Riendeau

District 3, Position 1 RoxAnn Sherwood Chair

District 3, Position 2 Shara Coffman

At-Large – Andrew Schreck
Public documents
The Lincoln Hospital District 3 Commissioners are elected officials and meet the third Thursday of each month.(unless otherwise noted) at Lincoln Hospital in the Board Conference Room. A new meeting time of 1:00 pm has been announced to change effective November 19th. Please call 509.725.7101 ext. 1119 for more information.
January 21, 2021|Agenda | Minutes
February 18, 2021 | Agenda | Minutes
March 18, 2021 | Agenda | Minutes
April 15, 2021 | Agenda | Minutes
May 20, 2021 | Agenda | Minutes
June 17, 2021 | Agenda | Minutes
July 15, 2021 | Agenda | Minutes
August 19, 2021
September 16, 2021
October 21, 2021
November TBD, Public Hearing for 2022 Budget
November 18, 2021
December 16, 2021
January 16, 2020 | Agenda | Minutes
February 20, 2020 |Agenda | Minutes
March 19, 2020 | Agenda | Minutes
April 16, 2020 | Agenda | Minutes
April 25, 2020 Special Meeting Agenda| Minutes
May 21, 2020 | Agenda | Minutes
June 18, 2020 | Agenda | Minutes
July 16, 2020 | Agenda | Minutes
August 20, 2020 | Agenda | Minutes
September 17, 2020 | Agenda | Minutes
October 15, 2020 | Agenda | Minutes
November 12, 2020 Public Hearing for 2021 Budget
November 19, 2020 | Agenda | Minutes
Board of Commissioners — regular meetings

Nov. 13, 2019 Public Hearing for 2020 Budget
Dec. 19, 2019 | Agenda | Minutes
Board of Commissioners — 2021 schedule of regular meetings
January 21, 2021 @ 1:00 pm
February 18, 2021 @ 1:00 pm
March 18, 2021 @ 1:00 pm
April 15, 2021 @ 1:00 pm
May 20, 2021 @ 1:00 pm
June 17, 2021 @ 1:00 pm
July 15, 2021 @ 1:00 pm
August 19, 2021@ 1:00 pm
September 16, 2021 @ 1:00 pm
October 21, 2021 @ 1:00 pm
November TBD, Public Hearing for 2022 Budget
November 18, 2021 @ 1:00 pm
December 16, 2021 @ 1:00 pm